the Art of Ken Price and
the Poetry of Charles Bukowski We invite you to enjoy the following samples from the folio:

This page:
"Kitchen with a View" -- Ken Price
"winter comes to a lot of places in August" --Charles Bukowski
There is a poetry sound file download available on this page.
All pages have links to high-resolution versions of the artwork.

Second sample page:
"Made in L.A." -- Ken Price
"the state of world affairs from a 3rd floor window" --Charles Bukowski
There is a poetry sound file download available on this page.
All pages have links to high-resolution versions of the artwork.

Third sample page:
"Venice" -- Ken Price
"in the mouth of the tiger" --Charles Bukowski
All pages have links to high-resolution versions of the artwork.

Fourth sample page:
"Looking Downtown" -- Ken Price
"cockroach" --Charles Bukowski
All pages have links to high-resolution versions of the artwork.

Home page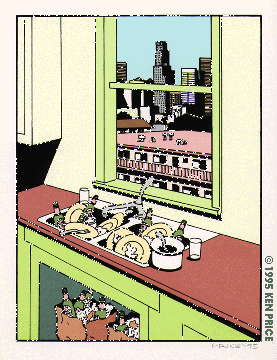 Please click on the print above to see a higher resolution version
of this Ken Price serigraph from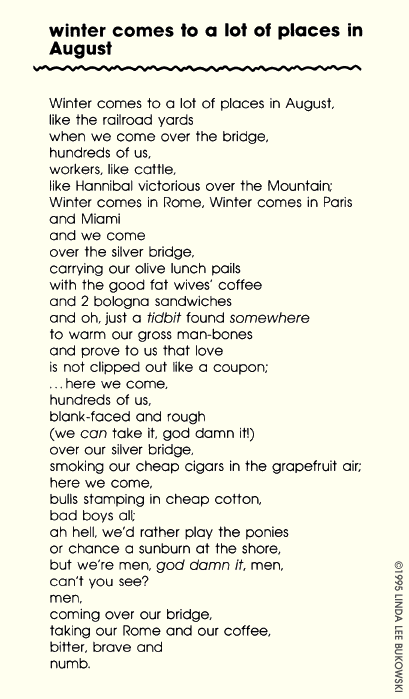 Click on the appropriate icon to download a Mac or a PC WAV file recording of Charles Bukowski reading this poem.

To hear these poems, you may need a helper application. For the Mac, there's SoundApp (you'll also need Stuffit Expander to convert the .bin file) and for the PC, try SOX10DOS.ZIP and of course you need some form of UnZipIt.

The Collaboration - The Text - The Illustrations - The Binding
Pricing Information - First Sample Page
Second Sample Page - Third Sample Page - Fourth Sample Page
Ken Price - Charles Bukowski
Send inquiries to: thomasl@blacksparrow.com
BLACK SPARROW GRAPHIC ARTS
24 Tenth Street, Suite E, Santa Rosa, California 95401 USA
Thomas Lundstrom (707) 579-1067 fax: (707) 579-4811
John Martin (707) 579-4011

http://www.blacksparrow.com/bsg5.html -- Revised: 5/22/96
All images & copy © 1995




This site designed by FIAMENGO & FRIENDS.