Charles Bukowski and Ken Price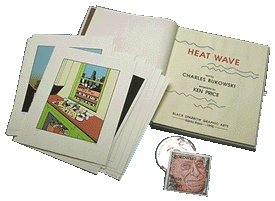 Please click on the book above to find out more about

The Binding


The format for Heat Wave is 15 X 12 inches. Bukowski's text is illustrated throughout with 17 additional black-and-white vignettes by Ken Price and printed in 14 point Avant Garde on Teton Warm White Text. The 74 page folio is handbound in cloth covered boards. A one hour compact disc of Bukowski reading his poetry is mounted on the inside of the front cover. A tray, built into the back of the book, holds the 15 original serigraphs which may be removed and framed. The front cover, silkscreened in 13 colors, illustrates an image from the suite of serigraphs. The entire portfolio is housed in a polished Plexiglas slipcase.

The Collaboration - The Text - The Illustrations - The Binding
Pricing Information - Sample Pages
Send inquiries to: thomasl@blacksparrow.com
BLACK SPARROW GRAPHIC ARTS
24 Tenth Street, Suite E, Santa Rosa, California 95401 USA
Thomas Lundstrom (707) 579-1067 fax: (707) 579-4811
John Martin (707) 579-4011

http://www.blacksparrow.com/bsg3.html -- Revised: 5/2/96
All images & copy © 1995




This site designed by FIAMENGO & FRIENDS.