Ken Price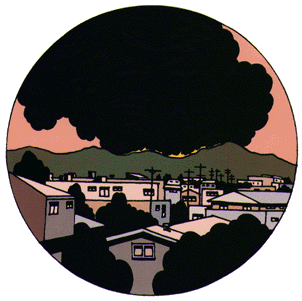 Please click on Ken Price's picture above to find out more about
his collaboration with Charles Bukowski:

.
Ken Price was born in 1935 in Los Angeles, California. After receiving a BFA from the University of Southern California, he studied for a year at Otis Art Institute with Peter Voulkos. He was part of the Otis group which was instrumental in transforming clay from craft into a vehicle for personal expression. In 1959 Price received an MFA from the College of Ceramics at Alfred University in New York State.
In addition to being a ceramic sculptor, he has continually been involved with works on paper. Over the years he has made prints with Gemini G.E.L. in Los Angeles, Tamarind Workshop in Los Angeles and Albuquerque, New Mexico and Cirrus Editions in Los Angeles. Price also illustrated The Plain of Smokes, a book of poems by Harvey Mudd for Black Sparrow Press.
Black Sparrow Graphic Arts has recently published Heat Wave, a book of poems by Charles Bukowski with drawings by Price, which are reproduced as serigraphs in the book.
Price's work has appeared in numerous group exhibitions. Since his first one-man show at the Ferus Gallery in 1960, Price has had over fifty one-man shows at galleries and institutions, including The Los Angeles County Museum, The Whitney Museum of American Art, The Menil Museum and The Walker Art Center. Price's works are in the permanent collections of The National Gallery of Art, MOMA, New York, The Hirshorn Museum and Sculpture Garden, Museum of Contemporary Art, Los Angeles, Philadelphia Museum of Art, Seattle Art Museum, San Francisco Museum of Art, The Stedeljk Museum and many others.
Price's most recent show of ceramic and bronze sculptures was at L.A. Louver Gallery in Venice, California, in January 1996. He is a professor of Art at the University of Southern California.


Send inquiries to: thomasl@blacksparrow.com
BLACK SPARROW GRAPHIC ARTS
24 Tenth Street, Suite E, Santa Rosa, California 95401 USA
Thomas Lundstrom (707) 579-1067 fax: (707) 579-4811
John Martin (707) 579-4011


http://www.blacksparrow.com/bsg.price.html -- Revised: 5/22/96
All images & copy © 1995




This site designed by FIAMENGO & FRIENDS.