Our current offering, Heat Wave,
is limited to an edition of 196 copies.
Each copy contains 15 original serigraphs by Artist Ken Price, illustrating the poetry of Charles Bukowski, reflecting life's struggle in the city of Los Angeles.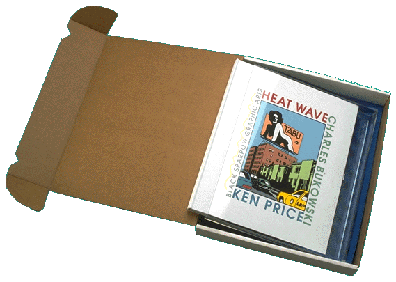 Please click on the image above to find out more about


Please click on

to view sample pages
and hear a sample of Bukowski's poetry. Send inquiries to: thomasl@blacksparrow.com
BLACK SPARROW GRAPHIC ARTS
24 Tenth Street, Suite E, Santa Rosa, California 95401 USA
Thomas Lundstrom (707) 579-1067 fax: (707) 579-4811
John Martin (707) 579-4011


http://www.blacksparrow.com/bsg1.html -- Revised: 5/22/96
All images & copy © 1995




This site designed by FIAMENGO & FRIENDS.